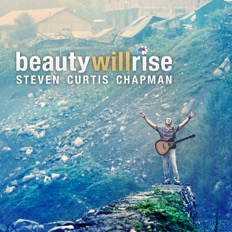 Years ago I wrote album reviews for a magazine. Being a musician, my concern largely focused on musical composition and production with token acknowledgement of lyrical content.


Last week I listened to Steven Curtis Chapman's latest album,
Beauty Will Rise
, in its entirety. Chapman has been recording and touring for years, yet this release is unique in his discography. More than a mere collection of songs, this is a musical journal of laments, emotions, tears, and hope stemming from the tragic death of his adopted daughter. Listening to these songs days following the end of 2009—the most difficult year of my life—was encouraging and comforting like few things have ever been.

You can read a formal review
here
and an interview
here
. Suffice it to say that if you have ever experienced trials, pain, loss, suffering, or doubt (that's you, isn't it?) you are sure to find a deep connection to the lyrics of these songs. I am grateful for Chapman's transparency and honesty. I need this album. I'm guessing you do, too. Thanks, Steven.